The fastest and easiest way to get started with Bakery Butler is to simply share the link to your hosted order form.

Step 1
Once you've logged in to Bakery Butler you can find all the options and tools in the menu located in the top right corner.

Step 2
After opening the menu find the "Get Order Form" button and click it. This will take you to options for sharing your order form.

Step 3
The link to your order form is under Option A. Simply click on the text box to highlight the link and copy it ( ctrl+c on PC or cmd+c on Mac).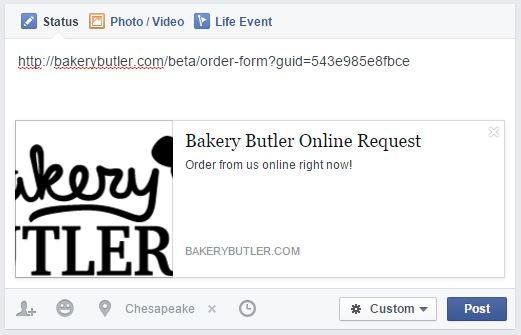 Step 4
Open up Facebook and find the status box. Now all you need to do is paste your form link ( ctrl+v on PC or cmd+v on Mac ). Facebook will automatically add your logo, title and instructions that you've set up in your Bakery Butler Profile.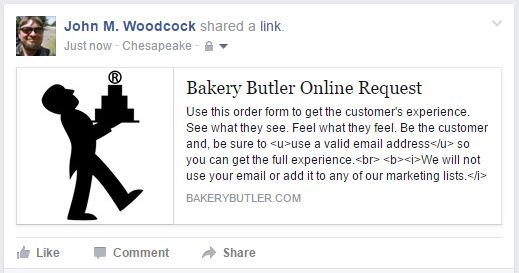 Step 5
Congratulations! You've just opened your virtual doors to your bakery.
I would recommend sharing with your Twitter followers using these steps. You can also copy and paste the link into your website or email campaigns. The more people you send to your order form the better your experience with Bakery Butler will be.
So go ahead. Start taking custom requests today!